"What to Buy Review | Electric Adjustable Facial Massage Table" features an electric adjustable facial bed/massage table for estheticians or massage therapists.
Your goal is to offer your clients a great experience in a comfortable and relaxing atmosphere. And you already have the skills to put all their muscles and minds at ease. But do you have the right bed to meet their expectations?
Or better still, you want to surpass their expectations and delight them even before they walk through your doors? Clients do their research and they know what they're looking for, so be ahead of the game.
This facial bed/massage table might just be the right equipment you've been looking for. Take a look at the features and benefits of this dual-purpose bed, also see what other purchasers have to say about it.
(As an Amazon Associate, I earn on qualifying purchases.)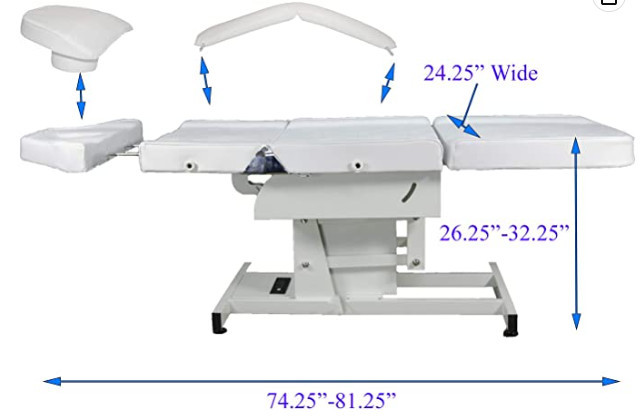 Overall Features | The Basics
Name: LCL Beauty Fully Adjustable Facial Bed/Massage Table
Sold By: Amazon
Price: $674.88 (This price is subject to change.)
Brand: LCL Beauty
Color: White
Dimensions: 24.25″W x 74.25″-81.25″L x 26.25″-32.25″H
Overall Rank: 8 out of 10
Take a look at the features:
Both the height and the length are adjustable.
The removable headrest pillow reveals a face opening, and it's also extendable.
It has a reclining backrest. Please note that it does NOT sit up 90 degrees.
The arms are removable.
And it has a 4″ high density comfort foam padding.
It comes with a digital touch-sensor remote control.
Additionally, there are independent electric controls for all chair settings.
The electric base is extra sturdy.
Furthermore, it's easy to assemble.
This product comes with a 3-port powerstrip with 2 USB ports on the base.
BONUS: You get a FREE matching pneumatic technician stool!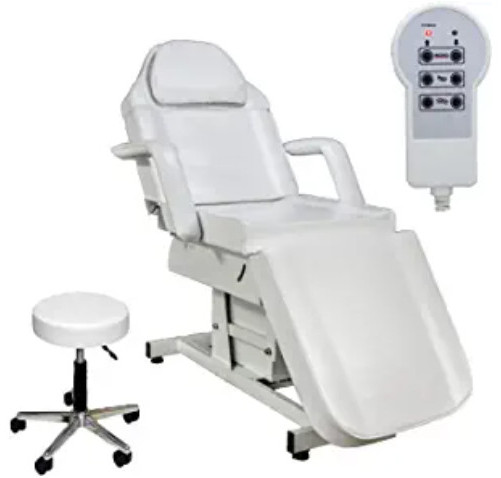 Here are some benefits:
The adjustable height and length enable you to customize it to fit clients of different sizes and comfort level.
Your clients get additional comfort with the extendable headrest. Simply remove the pillow for back "facials" and massages.
Further, indulge them to a reclining position whenever necessary.
A no-tools needed removable armrest is a quick and convenient way to make more room when it gets in the way.
Rest assured this thick foam padding adds an extra layer of comfort they'll appreciate.
You'll also appreciate the ease of operation with the touch-sensor remote control.
Furthermore, all chair adjustments have their independent electric controls.
A sturdy base gives you and your clients peace of mind for the stability it offers.
And an easy set up adds to the delight of your purchase.
Finally, enjoy the convenience of a powerstrip and USB ports within easy reach right at the base of your chair!
Free technician chair! That's a bonus you can truly appreciate.
Who Gets This? | Esthetician or Massage Therapist
You may want to consider purchasing this adjustable facial bed/massage table if you own or operator a salon or spa. It works well for an esthetician, massage therapist, and other specialists.
For example, an esthetician will appreciate the ease of operation during facials, back facials, eyelash extensions, waxing, etc. Likewise, a massage therapist will be pleased with the adjustable benefits and more.
So if you work in either of these capacities and you don't have the power to make purchases, you could still make a recommendation to whomever makes that decision.
Bear in mind that you and your clients deserve the best comfort while you give them your best work. We know how taxing repetitive actions throughout the day can take a toll on our bodies.
That's why ergonomic equipment are best for this environment to help reduce injuries and discomforts while we work. Therefore, both client and specialist can enjoy a pain-free experience.
What Others Are Saying | Facial Bed Reviews
The LCL Beauty Fully Adjustable Facial Bed/Massage Table gets a 4 out of 5 rating on Amazon.com. Here's a summary of what some purchasers had to say.
Pros:
This is a good price and a great item.
Some stated that the large size would accommodate customers' needs.
Others said the foam topping was comfortable.
They commented on the ease of operation.
And liked that it was easy to put together.
Some loved the power strip right at the base of the bed.
Someone said it was "better than a massage bed."
Also, they loved the bonus chair.
Cons:
Some said it was noisy.
And wobbly.
Also, the arms were difficult to remove.
There were no instructions to put the bed together.
Someone thought the lowest height was too high for someone short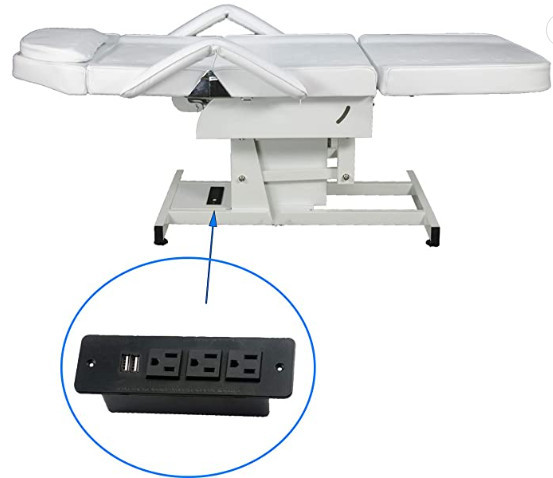 Conclusion | Is This Facial Bed/Massage Table Right for You?
Your clients depend on you to give them the best service, use the best products, tools, and equipment. This facial chair/massage table offers good value.
The features and benefits will help you to decide if it would be an excellent product for you and your clientele. Does it fit into your space, and will it outperform what you may already have?
It's up to you to make the decision to buy or not to buy this for your salon or spa. You have also seen what other purchasers have to say for and against it. But you have the experience to know what works for you.
(As an Amazon Associate, I earn on qualifying purchases.)
Whether you're looking into buying it for yourself or to make recommendations, please CLICK HERE for more details about this product or to make a purchase.
Also, feel free to explore using any of my Amazon links for other items for business or personal use. You may also be looking for gifts for family members, friends, and associates.
I hope the article, "What to Buy Review | Electric Adjustable Facial Massage Table" has given you some insight for your salon and spa purchasing decision.
Please feel free to leave your comments and questions below, I will be happy to address them.
Thank you for stopping by!
Veron